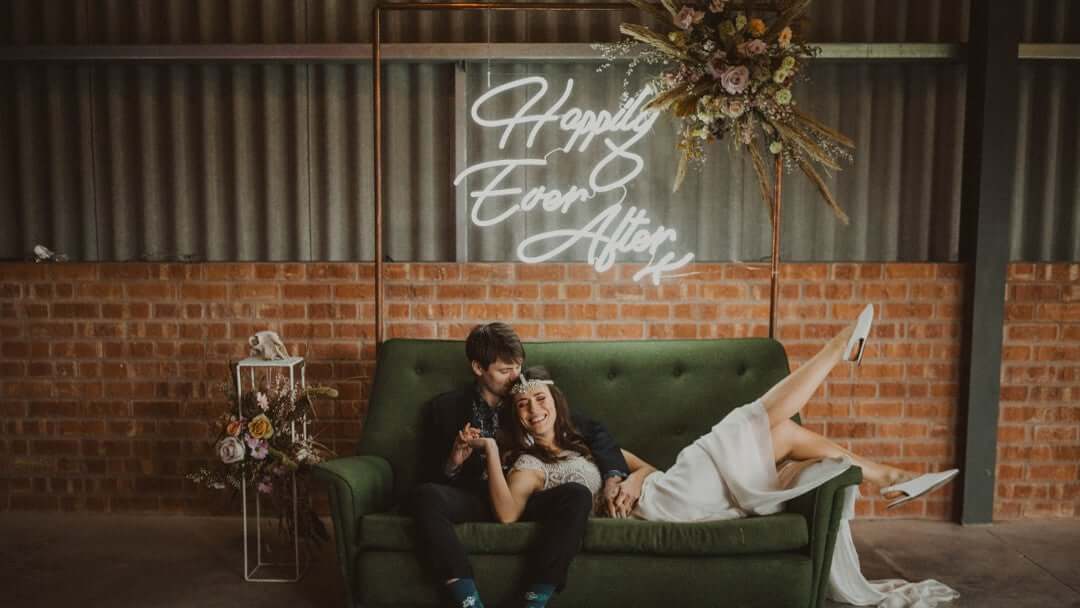 What is a Neon Glow Party?
A Neon party, simply put is a glow in the dark party. Neon, brightly colored decorations, and outfits are used. These Outfits and decorations glow brightly under Ultra Violet black light.
Other dark party ideas include Neon cakes, foods, and drinks. Dance party games can be played, as you create an awesome neon disco party.
You can have a glow in the dark party without the UV light emitted by black lights, but the cool glow effects will be less intense. Using black lights makes for a super bright fun glow!
(BTW click here if you are looking for nice neon signs for room decorations as part of your party).
What are the Best Decorations For Neon Parties?
Of course, you need many many neon items that will glow in the dark under the black light.
Neon colors are the order of the day when choosing your neon party decorations.
You can really get the party vibe going by the use of blacklight strips, combined with neon party favors, or you can hang fluorescent paper products.
A Neon themed party can be great for a birthday party or indeed a Halloween party.
Neon garlands can be hung on walls or suspended from ceilings. Some specialist party shops also stock a range of neon lettering so neon messaging can be displayed on your walls.
Neon signs are also a great addition to glow in the dark party decor and represent a great neon party decorations idea.
Of course, these LED Neon signs don't need the UV blacklight to show brightly their cool glow.
(BTW you might also like to read about the Neon Museum Las Vegas or this one about when were neon signs invented).
Where Should You Have a Your Glow in the Dark Party?
Neon parties are generally suited to nighttime events and should be set up in dark rooms with little to no natural light.
However, this doesn't mean that you have to rule out having a neon glow party in the day as this can be a great party time for kids.
If this is the case that you will have a daytime glow party you may need to invest in some tarp or black bin liners to obscure natural light coming into the room or venue.
The room selected for the party should be the space in the household with as little windows or glass doors as possible.
An indoor glow party tends to work best. Use any room in your household where you have a fairly large space.
An indoor glow party will ensure the maximum effectiveness of the UV black lights.
Ideal locations are lounge rooms, garages, or sheds. However, an outdoor glow party is possible, just be mindful of street lighting and the light from the moon drowning out the effect of the UV black lights.
Neon Party Invitations Ideas
In keeping with the theme, a great idea for your neon party invitations is to use black paper and neon lettering, so that they really pop and set the mood ahead of the scheduled party date.
Don't forget to mention the dress code as being anything neon and bright that will show up brightly and will glow under the black lights.
Dark Neon Party Decoration Ideas
Glow party decorations don't need to be over-complicated, it is all about using the right colors to get that awesome glow.
In order to get the most fun out of your neon party follow the below party decoration tips:
Hand out lots of neon party favors, glow sticks, glow stick glasses, and neon wigs, this will ensure to make each and every guest glow in keeping with the party theme.
Your glow party should also be a disco party, therefore decorate a specific dance floor are at your venue. Ensure that the black lights are focussed in this area and maybe have your real LED Neon sign present in this area as a focal point to the disco dance floor.
Hang neon paper products that are fluorescent from ceilings and walls. Stick to the party theme. For a birthday party have neon "happy birthday banners, for Halloween have "Happy Halloween" spelled out in neon.
Blow up and hang neon balloons or light-up LED balloons around the room!
Hang a large piece of fluorescent wall art, maybe by the disco dance floor again.
Purchase some UV reactive cups and plates in bright colors. These can of course be paper so therefore more cost-effective. If you don't want to use paper plates and cups, you can always decorate your existing ones with neon dots or glow stick bracelets.
Use a bright neon table cloth covering and get UV reactive utensils and fluorescent colored napkins.
Make a neon makeup station where guests the have not gone all out in their outfits can accentuate their look with neon face paints.
Surround the glow party area with UV black lights in order to make the neon colors pop!
Neon Party Outfit Ideas - What Should I Wear to a Neon Party?
It is not an everyday occurrence so you may need guidance on what some neon party outfit ideas for what to wear for a dark party.
Fluorescent neon colors and white glow up best under the UV of black lights.
Accessorize well with neon-colored wigs, tights gloves, and hats. Costume jewelry in bright colors, plus glow sticks and glow bracelets are great party ideas.
Using neon makeup and body paint is a great one of those neon party ideas that not many people think about.
Make glow your face with brightly colored lipsticks and face paints. Your face will surely have an awesome glow!
Final Thoughts On Neon Dance Party Ideas
Glow in the dark parties is great for many occasions. It is one of those memorable birthday party ideas for the birthday party season.
Also a great idea for Halloween, you will be able to create an eerie atmosphere surely with the use of UV black lights.
You should aim to incorporate as many fluorescent colored items into your party decorations as is possible.
This is a great idea so as to make your entire party theme complete. Glow sticks, party favors and indeed you can make foods that have an awesome glow.
Generally, white-based foods such as bread, cupcakes with white frosting, vanilla ice cream with hundreds and thousands sprinkle you can make glow under black light.
Neon colors are to be dressed up in too, and neon face paints and makeup will have an awesome glow under black lights.
A black-light party can incorporate many fun party games and even a neon party disco.
Remember to focus your black light party decorations around the dance floor to make glow as your focal point to the blacklight party.
If you are on a tight budget for your black light party the black lights are not a necessity, but the use of blacklights in a dark party can really make the neon colors glow like never before.
A neon blacklight party is great for any ages, young ones will love playing musical statues among other party games on your dark party disco floor. Your Halloween party ideas glow brightly under UV light.
So for a children's Halloween party, however, have the room dark enough to make glow, but have a little zone set up for any children that experience sensory overload or fear.
Glow sticks, luminous party favors awesome neon lights from LED neon signs all work to set the neon blacklight party theme.
Glow party decorations simply should be bold and bright.
What a great party theme idea, take your guests to an awesome neon world! 
PS - You might be interested in taking a look at our neon animal lights collection or in buying a Japanese neon sign. Or click here if you are interested in personalized neon signs.